Are you thinking of running for office?
Do you know someone who would be
a GREAT candidate?
What is involved? What are the requirements?
Valuable information is provided below!

In addition, the Ohio Democratic Party – in partnership
with local county parties –
offers the Main Street Initiative.
Please visit here for more information!
We hope to see you at the next session!
Thank You for considering to run for elected office
and becoming a valued public servant within our community!
CANDIDATE REQUIREMENT GUIDE
---
Please note that additional information is provided below
specific to judicial candidates.
The 2022 Candidate Requirement Guide (PDF)
is updated on an annual basis,
contains requirements and guidelines for those
who may decide to run for elected office.
This publication is available in electronic format only.
Judicial candidate information is posted below.
DESIGNATION OF TREASURER
A campaign cannot accept any donations
until a Designation of Treasurer form is completed
and submitted to the appropriate filing entity –
for local candidates or issues, it would be filed with the
Erie County Board of Elections.
Any questions, contact the Erie County Board of Elections.
To print out form, visit here.
For all campaign forms,
see Campaign Finance Forms below.
ELECTIONS CALENDAR
The 2021 Elections Calendar – 8.5″x11″ (PDF)
and
the 2022 Elections Calendar – 12″x18″ (PDF)
provides dates and information on elections,
campaign finance deadlines and events throughout each year.
Includes Campaign Finance Reporting Dates.
This publication is available in electronic format only.
CAMPAIGN FINANCE REPORTING CALENDAR
For the 2021 Reporting Calendar with Filling Deadlines,
please click here.
The 2022 Reporting Calendar with Filing Deadlines is not available yet.
The Campaign Finance Reporting Calendar contains filing dates throughout the year.
Filing entities submitting reports to a county board of elections
should contact the board for special election dates and other filing deadlines.
See Ohio Revised Code 3517.10 for complete details of the timing
and requirements for most campaign finance reporting.
CAMPAIGN FINANCE FORMS
Click here for Campaign Finance Forms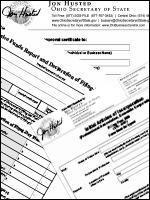 CAMPAIGN FINANCE HANDBOOK
Visit here to view or download Campaign Finance Handbook.
The Ohio Campaign Finance Handbook assists all reporting entities
in navigating the various regulatory paths established by Ohio law.
Each of the handbook's chapters discusses specific entity types or
areas of campaign finance activity and can serve as a map for the reader
to understand each area of regulation and reporting applicable to their circumstance. 
This publication is available in electronic format only.
Local candidates and other political entities can also receive
filing information from their local county board of elections.
To contact the Erie County Board of Elections, please visit here.
Campaign Finance Statutes and Administrative Rules
Campaign Finance Filing Forms
Campaign Finance E-Filing
CONTRIBUTION LIMIT CHART
Current Limit Chart – PDF
EFFECTIVE:
FEBRUARY 24, 2021 – FEBRUARY 24, 2023
JUDICIAL CANDIDATES
---
The Ohio Board of Professional Conduct provides a page – link is here – containing information and resources for judicial candidates, members of judicial campaign committees, and other individuals involved in judicial campaigns or interested in rules applicable to judicial campaign conduct. Please refer to the following links:
The Ohio Code of Judicial Conduct requires all judicial candidates, including incumbent judges, to attend and complete a two-hour seminar on judicial campaign practices. A judicial candidate is required to complete the two-hour training requirement at least one year prior to, or sixty (60) days after, his or her candidacy is certified by the election authority.
The judicial campaign seminars include instruction on ethics rules applicable to judicial campaign conduct, including participation in campaign activities, the content of judicial campaign advertisements, and campaign fundraising activities. The seminar also addresses state law requirements on disclaimers and campaign finance reporting.
The seminars are a collaboration among the Ohio Board of Professional Conduct, the Ohio Judicial College, and the Ohio Secretary of State's office.
Judicial candidates are encouraged to bring their campaign treasurer and volunteers to the seminar. The seminars are offered at no cost to attendees, and no preregistration is required. Judges and attorneys attending the seminar receive two hours of continuing legal education credit.
If you have any questions regarding any of the judicial information above, please refer to the contacts listed below: 
Ohio Board of Professional Conduct
65 South Front Street
Columbus, Ohio 43215-3431
614.387.9370
​Questions re: Canon 4 (campaign conduct and fundraising):
Richard A. Dove, Esq., Director
rick.dove@bpc.ohio.gov
614.387.9370
D. Allan Asbury, Esq., Senior Counsel
allan.asbury@bpc.ohio.gov
614.387.9370
​Questions re: Ohio Elections Laws (campaign finance reporting and disclaimers):
Your County Board of Elections
Ohio Secretary of State /Campaign Finance Division
​Brian Katz, Director of Campaign Finance Division
bkatz@ohiosos.gov
Ohio Secretary of State
614.728.6855
​Mandi Grandjean, Director of Elections
agrandjean@ohiosos.gov
Ohio Secretary of State
614.466.3899
QUESTIONS?
If any questions concerning any of the above information,
please contact the Erie County Board of Elections
2900 Columbus Avenue, Room 101, Sandusky 44870 | 419.627.7601
or
the appropriate contact provided above for Judicial candidates.
Do you have questions about voting?
Check out: www.IWill Vote.com
Ohio Voter Eligibility and Residency Requirements
Voter Registration (Online)
Voter Registration Form (PDF)

Am I registered to vote?
Am I registered at the right address?
Update Your Ohio Voting Address (Online)
Am I registered under my correct name?
Where do I vote?
What do I need to bring with me to vote?
Ex-Offenders – Find a New Direction: Reclaim Your Right to Vote

Visit the Erie County Board of Elections website:
Erie County Board of Elections

or
Contact Erie County Board of Elections
2900 Columbus Avenue, Room 101, Sandusky 44870
419.627.7601