The Ohio Senate minority caucus is comprised of the party with the fewest members represented. Each session, members of the minority caucus select a slate of leaders, headed by the minority leader.
DEMOCRATIC PRIORITIES
Members of the Ohio Senate Democratic Caucus held an informal brown bag lunch discussion with news media to discuss their top issues and goals for the 135th Ohio General Assembly.
Senator Nickie J. Antonio (D-Lakewood), Senate Minority Leader:
"Looking ahead to the new General Assembly, our key legislative priorities look to create a state that puts our children and seniors first, builds an economy that works for everyone and welcomes all families to Ohio. My specific legislative priorities include abolishing the death penalty through a bipartisan effort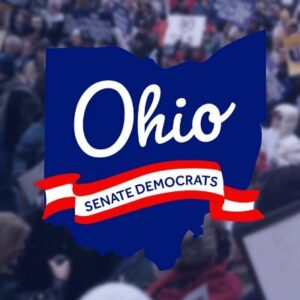 with Senator Steve Huffman, a re-introduction of the LGBTQ+ Fairness Act and ending the statute of limitations for rape and sexual assault. I look forward to working with members on both sides of the aisle to make Ohio a great place to live, work, and raise a family."
Senator Hearcel F. Craig (D-Columbus), Assistant Senate Minority Leader:
"My priority has always been to lift people up out of poverty by building ladders of opportunity to improve the lives of all Ohioans, particularly those of the 15th District who are most vulnerable and in need. This General Assembly, I will continue this work by focusing on issues related to housing, healthcare, education, workforce development, and criminal justice reform."
Senator Kent Smith (D-Euclid), Senate Minority Whip:
"Ohio has much work to do to increase Ohio's median household income, grow our new energy economy and keep and attract young people to call Ohio home. I believe there are a multitude of ways to improve our state and I look forward to working with my fellow Democratic legislators and Republican colleagues to make strides in all of these areas because Ohio can do better. We must take steps to strengthen our state for the good of the people we serve."
Senator Paula Hicks-Hudson (D-Toledo), Assistant Senate Minority Whip:
"During the 135th General Assembly, I intend to introduce a variety of bills aimed at improving quality of life for Ohioans. Maternal health has always been a priority of mine, and it is critical that the legislature assists pregnant Ohioans by providing Medicaid coverage of doula services. Additionally, I plan to introduce a bill supporting urban agriculture in Ohio and will continue to push for ways to improve and protect Ohio's waterways, especially Lake Erie. It is my hope that these pieces of legislation will receive the bipartisan approval they deserve."
Senator Vernon Sykes (D-Akron):
"In the 135th General Assembly, I'm looking forward to fighting for opportunity and resources for Ohio's small businesses and minority business owners, investing in early childhood education, and advocating for Ohioan's needs through the budget process."
Senator Catherine D. Ingram (D-Cincinnati):
"As a legislator, I am always concerned about education and plan to introduce a variety of bills to ensure the accessibility and quality of education for all Ohioans. Furthermore, I plan to address how we can ensure that housing in Ohio is affordable and accessible for all. While we may be moving into a new General Assembly, we still must consider ongoing issues that continue to impact the freedoms of Ohioans such as redistricting, reproductive justice, and the right to vote."
Senator Bill DeMora (D-Columbus):
"My main legislative priority is to fight to protect Ohioan's constitutional rights. I am deeply disturbed by recent Republican efforts to undermine these rights. First, Republicans infringed upon the rights of women who were seeking the basic healthcare option of choice. Now, they are undermining Ohioan's ability to freely and easily vote. I have been working for decades to help get people elected that would fight for the rights of their constituents, and now that I hold office, it is my turn to do the same."
DEMOCRATIC CAUCUS LEADERSHIP
Minority Leader – Nickie J. Antonio – Senate District 23. The minority leader is elected by all members of the Senate to lead the party in the minority. He or She is responsible for the development and implementation of the caucus agenda.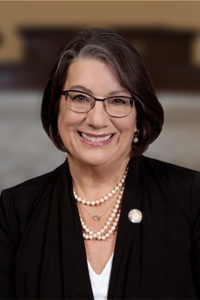 State Senator Nickie J. Antonio (D-Lakewood) is honored to be serving in the Ohio Senate, representing District 23, and in leadership as the Assistant Minority Leader. Antonio, who was elected to the Senate in 2018, previously spent eight years in the Ohio House of Representatives, where she served District 13 and was also a member of leadership. Antonio has served as a Lakewood City Councilmember, Executive Director of an outpatient drug and alcohol treatment program for women, Adjunct Professor and as a teacher for children with special needs.
Antonio serves as Highest Ranking Member on the Senate Health, Transportation, and Joint Medicaid Oversight Committees. She also serves on the Finance; Ways and Means; Workforce and Higher Education; Rules and Reference; and Joint Legislative Ethics Committees. Additionally, she is a member of the Ohio House Democratic Women's Caucus, previously as chair, and is the State Director for the National Women Legislators' Lobby.
She has been a dedicated champion of workers' rights, high-quality education, local governments, equal rights for women and the LGBT community, health care for all and fighting the opioid crisis. Antonio has received numerous Awards for outstanding legislative leadership including the Cleveland State University Distinguished Alumni of the Year Award from the Maxine Levin College of Urban Affairs, and the 2019 ACAR J. Howard Battle Equal Opportunity in Housing Award from the Akron/Cleveland Association of Realtors. A full list of Senator Antonio's awards can be found here.
Antonio is also recognized as a leader who reaches across the aisle to get things done. As a result, she championed Ohio's historic adoption open records law (S.B. 23/H.B. 61) and step therapy reform law (S.B. 265/H.B. 72). Last General Assembly, Antonio passed legislation to abolish the shackling of pregnant inmates (S.B. 18/H.B. 1) and to require pharmacist education for dispensing life-saving naloxone (S.B. 59/H.B. 341). During her tenure in the Ohio legislature, Antonio has introduced the Ohio Fairness Act, which would provide civil rights protections for members of the LGBTQ community. She continues to work to remedy and end Ohio's use of the death penalty, as well as on an array of other bills focused on improving the lives of all Ohioans. Antonio continues to be an established expert in health policy in the General Assembly.
The first in her family to graduate from college, she holds both an MPA and a B.S. Ed. from Cleveland State University, and she was named a CSU Distinguished Alumni in 2013. She is also an alumnus and Bohnett Fellow of the Kennedy School Harvard Leadership Program (2011) and has been the recipient of numerous awards as legislator of the year from various organizations during her tenure.
Her daughters, Ariel and Stacey, have made Antonio and her wife, Jean Kosmac, very proud as the girls engage in their adult life journeys.
Antonio has made a number of historical firsts in the Ohio General Assembly. In 2010, she became the first member of the LGBTQ community ever elected to the Ohio House of Representatives in the 208-year history of the Ohio General Assembly. She was also the first LGBTQ member to hold a leadership position, when she was elected Minority Whip in the 131st General Assembly. In 2018, she became the first woman ever to hold the Senate District 23 seat and the first member of the LGBTQ community ever elected to the Ohio Senate. She continues historic firsts with her Senate leadership position, of Minority Whip, then Assistant Minority Leader in 2021.
Contact Senator Nickie J. Antonio:
Senate Building
1 Capitol Square, 2nd Floor
Columbus, OH 43215
Hometown: Lakewood
(614) 466-5123
Email Senator Antonio
Assistant Minority Leader –  Hearcel F. Craig – Senate District 5. The assistant minority leader is elected by all members of the Senate and assists the minority leader in development and implementation of the agenda for the minority party.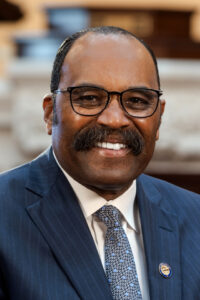 Senator Hearcel F. Craig's extensive background in public service helped propel him to serve the constituents of the 15th Senate District by being elected to the Ohio Senate in November 2018. He serves as Ranking Member of the Senate Government Oversight and Reform Committee and the Senate Insurance Committee. Senator Craig also serves on the Senate Energy and Public Utilities; Finance; Financial Institutions and Technology; General Government Budget; and Rules and Reference committees. Additionally, Senator Craig serves as sergeant-at-arms for the Ohio Legislative Black Caucus.
Craig's career as a public servant for the City of Columbus began decades ago when he worked as a legislative liaison for the Ohio Department of Youth Services (ODYS). During his tenure at ODYS, Craig drafted legislation and secured legislative sponsorship for bills introduced in the Ohio General Assembly. Notably, one of the pieces of legislation he helped bring to fruition was H.B. 812, which secured $83 million for much-needed capital improvements to ODYS facilities. Craig expanded his commitment to the community by working to improve the lives of young people. He did this by serving as the Director of Recruitment & Admissions for City Year, a program that recruits young adults to work full-time for one year on various social service projects around Columbus. As a result of his efforts, City Year corps members can receive valuable training and leadership skills that will benefit them later in their professional lives.
As the former Executive Director of the Hilltop Civic Council, Inc., he managed a comprehensive social service agency that served approximately 10,000 people annually in one of Columbus' historic neighborhoods. During this time, he helped the Hilltop Civic Council's 35-person staff administer its $1.2 million annual budget. This budget included initiatives such as program supervision for a comprehensive community health care center, youth and senior services, a resettlement center for new Americans and a food and clothing pantry.
While serving as a Columbus City councilmember, Craig was named President Pro Tempore. Craig had the honor of chairing committees that dealt with the city's infrastructure, such as the Public Service & Transportation Committee, Small & Minority Business Development Committee and the Recreation & Parks Committee. Additionally, Craig had the opportunity to chair committees that allowed him to interact directly with the people of Columbus. These committees included the Health & Human Services Committee and the Veterans' Affairs Committee, where he continued advocating for the wellbeing of the community while meeting the needs of veterans, service personnel and their families. He worked tirelessly to connect veterans with existing services and resources in the community and created new initiatives, such as the Better Municipal Care for Veterans Home Fund, which helps veterans and their families make needed repairs to their homes. Since the beginning of his career, Craig's priorities as a public servant have included creating access to a wide range of programs and services that enhance the quality of life for children, families, veterans and seniors. Commitment to these values still remain his number one priority.
Over the past three decades, Craig has volunteered his time as a trustee on numerous community service boards, many of which were centered on education. He is a lifetime member of the NAACP. Senator Craig is currently a member of National Black Caucus of State Legislators, a member of the Executive Committee and Co-Chair of the Education Committee of the Midwest Legislative Conference and serves on the Advisory Board of the Chamberlain School of Nursing. He has served as a member of the Columbus Public Schools Equity Task Force, the Columbus State Community College Department of Business, Industry Technology Curriculum Committee, the Southside Learning and Development Center's Board of Trustees, the Ohio Hunger Task Force Board of Trustees and the Columbus Cultural Arts Center Board of Trustees. He previously served on the board of the Military Veterans Resource Center. Craig also served as board chair for the Alliance for Cooperative Justice, the Franklin County Prevention Institute, and the State Education Committee for the Columbus Chapter of the NAACP. Additionally, Senator Craig has also completed Leadership Columbus, Leadership Ohio and the Ohio Executive Institute.
In 2011, Craig was presented with the Public Servant of the Year award by Community Shares of Mid-Ohio. In 2015, Craig had the distinguished honor of being inducted into the Military Order of the Purple Heart for his continuous support of veterans. Additionally, Senator Craig was presented with the AMVETS Department of Ohio 2016 Legislator of the Year award.
Senator Craig is eager to continue his commitment to public service so he can make meaningful investments in our neighborhoods, as well as create jobs and expand the local economy.
Senator Craig earned a Master of Science in Administration degree from Central Michigan University. He also studied at Ashland Theological Seminary as part of their Master of Divinity program and was a Join Together National Leadership Fellow at Boston University School of Public Health. He proudly served our nation in the United States Army from 1970 – 1972.
Senator Craig and his wife, Linda, are the proud parents of four children, nine grandchildren, and two great-grandchildren.
Contact Senator Hearcel F. Craig:
Senate Building
1 Capitol Square, Ground Floor
Columbus, OH 43215
Hometown: Columbus
(614) 466-5131
Email Senator Craig
Minority Whip – Kent Smith – Senate District 15. The Minority Whip is elected by all members of the Senate and is responsible for monitoring legislation and securing votes for legislation on the floor for the minority party.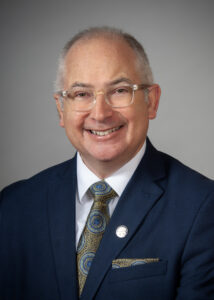 State Senator Kent Smith currently represents Ohio's 21st Senate District. Smith was first elected to serve the people of Ohio in 2014 and was re-elected in 2016, 2018 and 2020 to serve Ohio's 8th House District. He joined the Ohio General Assembly after serving Euclid, Ohio as a Member of the Euclid Board of Education from 2002 – 2013. In his 12 years on the Euclid School Board, Senator Smith never missed a meeting. As a Euclid School Board Member, he was a four-time winner of the "Award of Achievement" which is awarded annually by the Ohio School Boards Association to less than three percent of all School Board Members in Ohio.
Senator Smith graduated from Miami University in 1988 and earned his Master of Science in Urban Studies from Cleveland State University in 2001. His master's degree thesis – which was written in 2001 – was about the emerging threat of Predatory Lending and the Subprime Market. He also co-authored the first Predatory Lending Report by Policy Matters Ohio in 2002. Following his master's degree studies, he sought his PhD at Cleveland State University in Economic Development.
Senator Smith serves as the Ranking Member on the Senate Energy and Public Utilities, Financial Institutions and Technology, and Ways and Means Committees. He also serves on the Senate Judiciary, Transportation, and Rules and Reference Committees.
Throughout his time in the House, he served as the Ranking Member on the House Public Utilities (134th and 133rd GA), Financial Institutions (133rd GA), Financial Institutions, Housing, and Urban Development (132nd GA), and Economic & Workforce Development (131st GA) Committees. He also served on the House Higher Education and Career Readiness, Technology and Innovation, Education, Commerce and Labor, and Rules & Reference Committees.
Representative Smith holds four core operating principles that help guide his work as a State Senator. They are:
1. We all do better, when we all do better.
2. All of Ohio's children today are all of Ohio's future tomorrow.
3. Ohio's economy will grow from equal parts innovation and opportunity.
4. I am going to show up, do the work and fight for those who sent me to Columbus.
As an example of the fourth principle, as a Representative during the 133rd General Assembly, there were 421 votes cast on the Ohio House Floor. Kent Smith was present and cast his vote on behalf of the 8th House District for every single vote.
In 2017, he was one of three Ohio State Representatives, and one of 37 overall, to receive a fellowship for the 2017 Bowhay Institute for Legislative Leadership Development conducted by the Council of State Governments (CSG) at the Humphrey School of Public Affairs at the University of Minnesota.
Since 2019, Senator Smith has served on the Advisory Board for Rust Belt Rising where he is a Resident Economic Expert. Additionally, Smith is an active member of the National Caucus of Environmental Legislators (NCEL), currently serving as the Ohio State Lead for NCEL – a role he occupied in both 2020 and 2018. He also serves on three multi-state legislative caucuses: CSG's Great Lakes Legislative Caucus, the National Conference of State Legislatures (NCSL) Labor and Economic Development Standing Committee and the NCSL Task Force on Cyber Security.
Since 2006, Senator Smith has been the head of the Euclid Democratic Party. In addition, he works as a roller derby announcer for Burning River Roller Derby in Cleveland. He joined Burning River in 2008 and from 2010 to 2020, he also announced for The Chicago Outfit. He has called hundreds of bouts across the Midwest. In 2018, he was one of 15 American roller derby voices selected to help announce the Roller Derby World Cup in Manchester, England.
Prior to joining the Ohio General Assembly, Senator Smith worked for the Cuyahoga County Prosecutor's Office, which included an assignment with the Ohio Internet Crimes Against Children Task Force, and at four Northeast Ohio nonprofit organizations.
He is eager to use his unique perspective and professional experience to improve the quality of life for the people of the 21st Ohio Senate District and working families across the state.
Contact Senator Kent Smith:
Senate Building
1 Capitol Square, Ground Floor
Columbus, Ohio 43215
Hometown: Euclid
(614) 466-4857
Email Senator Smith
Assistant Minority Whip – Paula Hicks-Hudson – Senate District 11. The Assistant Minority Whip is elected by all members of the Senate and is responsible for assisting the Minority Whip in monitoring legislation and securing votes for legislation on the floor for the minority party.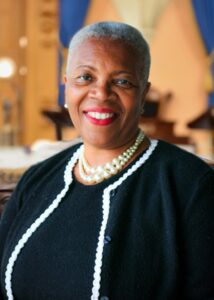 As the first black female mayor of Toledo, state Senator Paula Hicks-Hudson has always exhibited a commitment to empowering and helping people improve their quality of life. She currently represents Ohio's 11th Senate District.
Raised in the city of Hamilton, Ohio, Sen. Hicks-Hudson often cites education as a pathway to success. She graduated from Spelman College, a historically black higher education institution for women, with her Bachelor's degree in Political Science and Journalism. Sen. Hicks-Hudson then went on to graduate with her Master's Degree in Communications Development from Colorado State University.
Following graduation, Sen. Hicks-Hudson and her family returned to Wilberforce, Ohio, where she was the associate director in the Upward Bound Program at Central State University. It was through this experience that Paula saw the challenges that young people faced with the legal system. As a result, Sen. Hicks-Hudson returned to law school with a focus on juvenile justice issues.
After graduating with her Juris Doctorate from The University of Iowa, Sen. Hicks-Hudson moved with her family to Toledo in 1982. As a Reginald Heber Smith Fellow, she began her career at Toledo Legal Aid Society representing senior citizens and working with several community groups as a community organizer.
Sen. Hicks-Hudson has centered her work on improving the quality of her community  in both the public and private sector. During her 35-year professional career, she has worked as assistant Lucas County prosecutor, assistant public defender and assistant state attorney general. From 1998-2002, she served as the legislative director of the Toledo City Council. Following this position, she served as the director and deputy director of the Lucas County Board of Elections and chief legal counsel to the Ohio Office of Budget and Management under Governor Ted Strickland. Prior to her election to the Senate, she served as a state Representative for Ohio House District 44.
From negotiating labor contracts for Ohio Shared Services Center and teaching domestic relations law, to conducting voter education activities for Congresswoman Marcy Kaptur, Sen. Hicks-Hudson has advocated for a diverse range of issues in a holistic and sensible way.
Of particular note are her numerous programs and efforts geared toward youth well-being and educational issues. As a Court Appointed Child Advocate-Guardian ad Litem, Sen. Hicks-Hudson is trained in mediation and advocates for neglected and underrepresented youth. As a result of her efforts, she has been honored by the Urban Minority Alcohol and Drug Outreach Program. She also continues her partnership with the Coalition and Quality Education and Covenant Youth Development Corporation to increase opportunities for young people. Sen. Hicks-Hudson has informed upcoming professionals of the importance of intervention and prevention programs and actions for development of productive citizenship for our future society.
In 2011, while working for her own private law practice and teaching criminal justice at the University of Toledo's College of Law, Paula was selected by the Lucas County Democratic Party to fill the vacancy on the Toledo City Council District 4 seat.
From 2011 to 2015, Sen. Hicks-Hudson served on Toledo City Council, serving as President of Council from 2013 to 2015. With the sudden death of Mayor Michael Collins in 2015, Sen. Hicks-Hudson became the first African American female mayor of Toledo, serving from 2015 to 2018.Sen.
Hicks-Hudson's commitment to community empowerment and revitalization has also led her to serve on the following boards and organizations: the NAACP, the YWCA, the Frederick Douglass Community Center, Toledo Youth Hostel, the African American Law Enforcement Agents, Lucas County Land Reutilization Corporation, and the state and national Federations of Business and Professional Women, Inc. She is also the past president of the Thurgood Marshall law Association and the Toledo Women's Bar Association.
Sen. Hicks-Hudson's other accomplishments include being awarded the Distinguished Service Award by LiUNA Local 500 and the 2020 Community Service Award by the Toledo Bar Association.
Outside of her dedicated, successful professional career, she enjoys many rich connections and activities with family and friends. She was married to her husband, Freeman W. Hudson, from 1973 until his passing in 2018, and is the proud mother of two adult daughters, Patricia Hope and Leah Free Star, and grandmother of seven grandchildren. An accomplished musician, Hicks-Hudson serves as the minister of music at Redeemer Lutheran Church.
Contact Senator Paula Hicks-Hudson:
Senate Building
1 Capitol Square, Ground Floor
Columbus, Ohio 43215
(614) 466-5204
Hometown: Toledo
Email Senator Hicks-Hudson

Ohio Democratic Senate Caucus