The Ohio Senate minority caucus is comprised of the party with the fewest members represented. Each session, members of the minority caucus select a slate of leaders, headed by the minority leader.
DEMOCRATIC PRIORITIES
Senate Democrats believe all Ohioans deserve good-paying jobs; quality, affordable health care; and fair treatment under the law. That's why we promote investing in Ohio's future by supporting quality schools and safe communities. We are committed to promoting fairness for all of Ohio's workers and families, regardless of race, religion, socioeconomic status, gender or sexual orientation.
Addressing the Covid-19 Pandemic
Many Ohioans have been set back as a result of the Covid-19 pandemic. We are committed to helping small businesses recover, giving schools resources they need to help students who have fallen behind and making sure all Ohioans have the opportunity to be vaccinated. We also support policies that will expand mental health services and address the heightened mental health crisis resulting from Covid-19.
Increasing Quality Education
For years, Ohio's unconstitutional school funding system has hurt our children and schools. We believe every child deserves to receive a good education in a safe environment. This starts by passing the Fair School Funding Act so school districts have the resources they need to provide quality education to all students.
Investing in Infrastructure
We prioritize making bold investments in our infrastructure. This includes fixing our state's roads and bridges and making sure all Ohioans have access to the fourth utility: broadband. By expanding broadband access, we will help fight inequities in education, health care, commerce and our workforce.
Fighting Racism
From health care and education to the criminal justice system and access to housing, racism is a powerful, detrimental force that affects all aspects of Ohioans' lives. We will continue to fight to recognize racism as a public health crisis, work to combat all forms of systemic racism and help guarantee opportunities to every Ohioan, regardless of their race.
Defending Voting Rights
As Democrats, we think the best way to eliminate barriers and increase voter participation is by investing in new technology to ensure that elections are secure, fair and accessible. We also support ending gerrymandering and will remain vigilant to ensure that the two redistricting reforms overwhelmingly approved by voters are followed properly as Ohio redraws its state legislative and congressional maps in 2021.
Keeping Ohioans Safe
The majority of Ohioans support commonsense gun reform. That's why we're committed to passing legislation to mandate universal background checks for all firearm transfers, keeping guns out of the hands of dangerous people, raising the minimum age for purchasing a firearm, restoring local control, and banning bump stocks.
Protecting the Environment
All Ohioans deserve a healthy environment. Our communities must have safe drinking water, free of harmful algal blooms, lead or any other dangerous contaminants. This starts by supporting initiatives like the H2Ohio project, which will protect Lake Erie and address problems like farmland runoff. We're also committed to investing in alternative and renewable energy sources to both create jobs and economic development in our state and protect our environment.
Reforming the Criminal Justice System
Senate Democrats seek to guarantee all receive justice from every part of our criminal jsitice system – from frontline police officers up to the Ohio Supreme Court. Every part of our system must work in a just, equitable manner. We seek to evaluate our adult and juvenile criminal justice systems to assess the impact of race, gender, age and financial means, then make improvements to ensure fair treatment for all Ohioans, no matter their background. We are also working to reform our bail and bond system to make sure people are not punished simply for being poor.
DEMOCRATIC CAUCUS LEADERSHIP
Minority Leader – Kenny Yuko
– Senate District 25.
The minority leader is elected by all members of the Senate to lead the party in the minority. He is responsible for the development and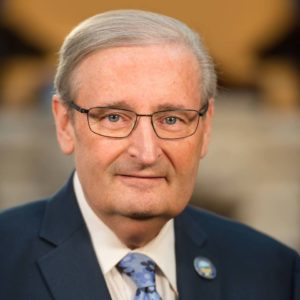 implementation of the caucus agenda.
Representing Ohio's 25th Senate District that includes parts of both Cuyahoga and Lake Counties, State Senator Kenny Yuko has devoted his career to strengthening Northeast Ohio and improving the lives of those who call it home.
Senator Yuko grew up in Euclid and graduated from Brush High School in the South Euclid/Lyndhurst School District in 1968. He then attended both Cuyahoga Community College and Kent State University before entering the workforce.
Yuko began his career as a clothing buyer for Polsky's Department Store, but he soon found his true passion with union organizing. He served with the Laborers' Local #860 for 30 years, including 25 years as union organizer. He retired from that service in 2004. During his long career, he received multiple awards for his efforts, including the "2000 Organizing Award" from his International Union.
With this experience under his belt, Yuko ran for State Representative in 2004 with the goals of protecting working families, promoting health care access, and improving Ohio's economic climate.  He won convincingly and was subsequently re-elected for three more terms. During his tenure in the House, he served as both Chairman and Ranking Member of the Commerce and Labor Committee, and was also a member on the Committees on Health and Aging and Veterans Affairs.
Because of his outstanding dedication to the causes he cares about, Yuko has received numerous awards and recognitions, including: AFL-CIO Lifetime Achievement Award, Kym Sellers Foundation Triumphant Award, National MS Society Advocacy Hall of Fame, Ohio Counseling Association Public Policy & Legislation Award, Home Medical Equipment Services Industry State Legislator of the Year Award, Linking Employment Abilities & Potential (LEAP) Legislative Advocacy Award, National Association of Mental Illness (NAMI) Legislator of Year Award, Ohio Ambulance & Medical Transportation Association Legislator of the Year Award, The Rosemary Home Angel of the Year, Mayor Georgine Welo Community Service Award, and various other awards and citations for his years of service to the community.
Yuko resides in Richmond Heights with his wife Pam.  He has two grown children, Rocky and Angela, and three grandchildren.
Contact Senator Kenny Yuko:
Statehouse
1 Capitol Square, 3rd Floor
Columbus, OH 43215
Hometown: Richmond Heights
(614) 466-4583
Email Senator Yuko
Assistant Minority Leader – Nickie J. Antonio – Senate District 23. The minority whip is elected by all members of the Senate and is responsible for monitoring legislation and securing votes for legislation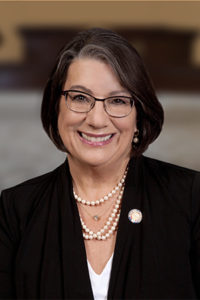 on the floor for the minority party.
State Senator Nickie J. Antonio (D-Lakewood) is honored to be serving in her first elected term in the Ohio Senate after serving four terms in the Ohio House of Representatives for the 13th House District.
She has been a dedicated champion of workers' rights, high-quality education, our local governments, equal rights for women and the LGBT community, healthcare for all and fighting the opioid crisis.​
Antonio is recognized as a leader who reaches across the aisle to get things done. As a result, she has worked to pass legislation such as Ohio's historic adoption open records law (SB 23/HB 61) and a step therapy reform law (SB 265/HB 72). During each of her four terms in office, Antonio introduced the Ohio Fairness Act to protect LGBT people from discrimination, a bill to end Ohio's use of the death penalty and an array of other bills focused on improving the lives of all Ohioans. Antonio continues to be an established expert in health policy.
Senator Antonio represents Senate District 23 which includes Parma, Parma Heights, Brooklyn, Brook Park, Lakewood, Middleburg Heights, Linndale and parts of Cleveland's west side.​
The first in her family to graduate from college, Antonio holds a Master of Public Administration degree from the Maxine Levin College of Urban Affairs at Cleveland State University (CSU) as well as a Bachelor of Science degree in Education from CSU. Antonio is an alumna of the Harvard Kennedy School Senior and Executive Leadership Program for State and Local Governments.
Daughters Ariel and Stacey, both Lakewood High School graduates, have made Senator Antonio and her wife, Jean Kosmac, very proud as the girls progress through their life journeys.
Contact Senator Nickie J. Antonio:
Senate Building
1 Capitol Square, 2nd Floor
Columbus, OH 43215
Hometown: Lakewood
(614) 466-5123
Email Senator Antonio
Minority Whip – Tina Maharath – Senate District 3. The assistant minority whip is elected by all members of the Senate and is responsible for assisting the minority whip in monitoring legislation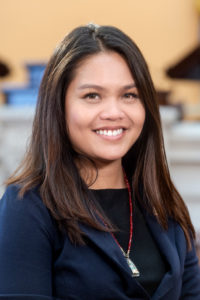 and securing votes for legislation on the floor for the minority party.
State Senator Tina Maharath (D-Columbus) is serving her first term in the Ohio Senate after being elected to the General Assembly in November 2018. She represents the 3rd Senate District, which encompasses areas of Franklin County, including Whitehall, Gahanna, Westerville, New Albany, Groveport, Canal Winchester, the Hilltop and parts of Columbus. She is the first Asian-American woman elected to the Ohio Senate.
A native of Whitehall, Tina chose to dedicate her life to public service at a young age, inspired by her upbringing as the daughter of refugee parents from the Southeast Asian nation of Laos. Her father served the U.S. Army under the Laos Army while her mother worked as a nurse in the Laos Army.
A warrior for underserved, troubled youth, Tina has had to live through a number of adverse events. She lost her mother and two brothers in a fatal car accident while she was still a young teen studying in France. Tina leaned on her community to overcome such a tragedy and decided to return that support by devoting herself to that very same community.
Before being elected to office, she helped organize Columbus' annual Asian Festival as the chair for the Volunteer Committee. She served on the Lao Volunteer Donation Association's advisory board and on the organizing committee for Ohio's Asian American and Pacific Islander Legislative Day, an event she went on to chair.
She volunteers for various organizations throughout central Ohio, including Legacies of War, Ohio Asian American Health Coalition, Community Refugee Immigration Services, Community Shelter Board and Asian American Community Services. In her free time, she also mentors young adults who, like her, have had rough upbringings and advocates for issues that impact people facing trauma.
Despite all the trauma she faced at such a young age, Tina used her strength to complete her secondary and higher education.
Tina currently resides in Canal Winchester with her son, Teng.
Contact Senator Tina Maharath:
Senate Building
1 Capitol Square, Ground Floor
Columbus, OH 43215
Hometown: Columbus
(614) 466-8064
Email Senator Maharath
Assistant Minority Whip –  Hearcel F. Craig – Senate District 5. Hearcel F. Craig (D-Columbus) brings a strong background of public service to the Statehouse as he serves in his first term as state Senator following two two-year terms as state Representative.
Craig's commitment to the residents of Columbus began decades ago when he worked as legislative liaison for the Ohio Department of Youth Services. During his tenure at ODYS, Craig drafted legislation and secured legislative sponsorship for bills introduced in the Ohio General Assembly, including legislation which secured $83 million for much needed capital improvements to ODYS facilities.
Craig continued his work with young people when he served as director of recruitment & admissions for City Year, a program that recruits young adults to work full-time for one year on various social service projects around Columbus.
As former executive director of the Hilltop Civic Council, Craig managed a comprehensive social service agency that served 10,000 people annually in one of Columbus' historic neighborhoods. Directing the Hilltop Civic Council's 35-person staff and administering its $1.2 million annual budget, Craig supervised programs for a comprehensive community health care center, youth and senior services, a resettlement center for new Americans and a food and clothing pantry.
Later elected as a Columbus City Councilmember, Craig led the city's Veterans Affairs Committee to help meet the needs of veterans, service personnel and their families. He has worked to connect veterans with existing services and resources in the community and created new initiatives like the Better Municipal Care for Veterans Home Fund, which helps veterans and their families make needed repairs to their homes. Craig also served as the chair of the Recreation, Public Utilities, Health & Human Services and Judiciary committees.
During the past three decades, Craig has volunteered his time as a trustee on numerous community service boards, many focused on education. He has served as a member of the Columbus Public Schools Equity Task Force, the Columbus State Community College Department of Business and Industry Technology Curriculum Committee, the Southside Learning and Development Center's Board of Trustees, the Ohio Hunger Task Force Board of Trustees and the Columbus Cultural Arts Center Board of Trustees. He recently served on the board of the Military Veterans Resource Center. Craig also served as board chair for the Alliance for Cooperative Justice, board chair for the Franklin County Prevention Institute and chair of the State Education Committee for the Columbus Chapter of the NAACP. Craig was named the 2011 Public Servant of the Year by Community Shares of Mid-Ohio.
Senator Craig earned a Master of Science in Administration degree from Central Michigan University and was a Join Together National Leadership Fellow at Boston University School of Public Health. Craig pursued a Graduate Studies degree in Theology from Ashland Theological Seminary and is a graduate of Leadership Columbus and Leadership Ohio. He proudly served our nation in the United States Army from 1970-1972.
Senator Craig is eager to use his public service experience to produce meaningful investments in our neighborhoods that help create jobs and expand the local economy.
Senator Craig serves on the following committees and commissions:
Insurance & Financial Institutions, Ranking Minority Member
Government Oversight & Reform, Ranking Minority Member
Local Government, Public Safety, & Veterans' Affairs
Energy & Public Utilities
Higher Education
General Government & Agency Review
Infant Mortality
Correctional Institution Inspection Committee
Retirement Study Council
Advisory Council for Aging
Commission on Fatherhood
Council of State Governments Education Committee, Vice-Chair
Contact Senator Hearcel F. Craig:
Senate Building
1 Capitol Square, Ground Floor
Columbus, OH 43215
Hometown: Columbus
(614) 466-5131

Ohio Democratic Senate Caucus