Despite the Ohio Ballot Board, led by Ohio Secretary of State Frank LaRose (R), rewriting of the proposed amendment that was Issue 1 on the General Election
Ballot, Issue 1 won overwhelmingly statewide – 56.62% YES and 43.38% NO. In Erie County, Issue 1 passed by 56.03% YES and 43.07% NO. Thank You all Ohioans! You saw through the misleading, incorrect information and outright lies that purposefully was intended to confuse voters by leaving out all the information regarding contraception, fertility treatment, continuing one's own pregnancy and miscarriage care. LaRose focused on abortion and continues to lie about the medical procedure being used to kill babies right up to delivery.
Know the facts! Read the proposed amendment language below. As of December 7, 2023, this is the language that will be enshrined in Ohio's Constitution to ensure women, their families – along with their physicians – have the right to determine their own reproductive decisions that are safe and without interference from politicians. Again, THANK YOU!
***************
Ohio Senate President Matt Huffman became the latest top Ohio Republican to say there shouldn't be a ballot measure restricting abortion in Ohio on the ballot in 2024. Huffman expressed interest in banning abortion after 15 weeks into pregnancy, but said abortion opponents and others first should undergo some "soul-searching" before deciding on next steps. Huffman had said in a fiery election night statement that Issue 1's passage would set off a "revolving door" of ballot issues to repeal or replace the measure, but abortion opponents have now backed off any plans to pursue any immediate changes. Stay informed about what Republicans and their allies may do regarding the amendment that is scheduled to go into effect December 7, 2023.
***************
FULL TEXT OF PROPOSED AMENDMENT
Be it Resolved by the People of the State of Ohio that Article I of the Ohio Constitution is amended to add the following Section:
Article I, Section 22. The Right to Reproductive Freedom with Protections for Health and Safety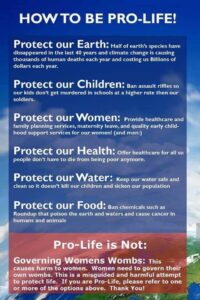 A. Every individual has a right to make and carry out one's own reproductive decisions, including but not limited to decisions on:
contraception;
fertility treatment;
continuing one's own pregnancy;
miscarriage care; and
abortion.
B. The State shall not, directly or indirectly, burden, penalize, prohibit, interfere with, or discriminate against either:
An individual's voluntary exercise of this right or
A person or entity that assists an individual exercising this right,
unless the State demonstrates that it is using the least restrictive means to advance the individual's health in accordance with widely accepted and evidence-based standards of care.
However, abortion may be prohibited after fetal viability. But in no case may such an abortion be prohibited if in the professional judgment of the pregnant patient's treating physician it is necessary to protect the pregnant patient's life or health.
C. As used in this Section:
"Fetal viability" means "the point in a pregnancy when, in the professional judgment of the pregnant patient's treating physician, the fetus has a significant likelihood of survival outside the uterus with reasonable This is determined on a case-by-case basis."
"State" includes any governmental entity and any political subdivision.
D. This Section is self-executing.
ADDITIONAL INFORMATION:
What would this do?
Issue 1 would enshrine the right to an abortion up until viability,
which is when a fetus can survive outside the uterus with reasonable measures.
It also states that there's a right to access
contraception, miscarriage care, fertility treatment and continuing a pregnancy.
Would this let minors get abortions without parental consent?
Critics say so, because the measure uses the term "individual" or "pregnant patient" instead of "woman."
Ohio currently requires minors to get parental, guardian or judicial approval,
and a judge will ultimately decide if that law violates the amendment, should it pass.
Would this allow abortions up until birth?
This is another talking point among the issue's opponents.
Under the proposal, abortions after viability would be allowed
to save the pregnant patient's life or health.
That decision would be made by the person's doctor.
That means late-term abortions could happen,
although they're extremely rare in Ohio and nationwide.
Proponents of Issue 1 say abortions later in pregnancy occur only under difficult,
potentially life-threatening circumstances and don't happen on a whim.
ARTICLES:

For information about November 7th, 2023 – General Election,
please visit here.