Official Website: U.S. House of Representatives/Ohio's 9th Congressional District
Official Campaign Website: Marcy Kaptur for Congress – Ohio 9th Congressional District
Marcy Kaptur Becomes Longest-Serving Woman in House History
View C-SPAN video here
Speaker Paul Ryan and Democratic Leader Nancy Pelosi take to the floor to honor Representatative Marcy Kaptur as she marks a milestone on March 18, 2018, and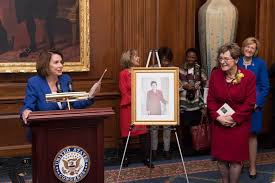 becomes the longest-serving woman in U.S. House history with 12,858 days of service.
Congresswoman Marcy Kaptur proudly represents the working people of Ohio's Ninth Congressional District. She is currently the longest serving woman in the history of the U.S. House of Representatives and ranks among the most senior Members of the 116th Congress.
The daughter of a Polish-American, working-class family, Marcy's life and service mirror the bootstrap, hardworking nature of her district. Her family ran a small grocery and her mother also worked at Champion Spark Plug, where she helped organize the workers into an auto trade union.
Marcy began her public career as an urban policy adviser to President Carter. She and her colleagues crafted numerous bills on housing and urban development, including the Community Reinvestment Act. In 1982, while she was pursuing a Ph.D. at MIT, she was recruited by local Democratic Party leaders to run against the incumbent Republican, whom she defeated in an upset that attracted national attention.
She uses her experience and seniority on the Appropriations Committee to secure vital federal investments for the Ninth District, focusing on jobs, economic growth, infrastructure and support for veterans and our military.
Marcy has dedicated her career in public service to fighting for workers and businesses that are trying to get a leg up. That includes fighting the special interests in Washington to make sure the federal government is working for the American people, not wealthy donors and lobbyists.
Marcy is a champion for the Midwest in Congress. She is focused on getting big money out of politics, holding Wall Street accountable, fighting against bad trade deals that harm workers and create a race to the bottom for wages, ensuring access to health care for all, and restoring our Great Lakes.
A lifelong resident of Ohio, Marcy is a member of Little Flower Roman Catholic Church and a graduate of St. Ursula Academy. She earned her Bachelor of Arts in history from the University of Wisconsin and a Master of Arts in urban planning from the University of Michigan.
Background
Congresswoman Kaptur, a native Toledoan, lives in the same modest house where she grew up.
Congresswoman Kaptur is a Polish-American with humble, working class roots. Her family operated a small grocery store and her mother later served on the original organizing committee of a trade union at the Champion Spark Plug factory in Toledo.
After graduating from St. Ursula Academy, she became the first member of her family to attend college, earning a bachelor's degree in history from the University of Wisconsin (1968) and later a master's degree in urban planning from the University of Michigan.
After working for 15 years as a city and regional planner, primarily in Toledo and Chicago, she accepted an appointment as a domestic policy advisor to President Jimmy Carter. During his Administration, she helped maneuver 17 housing and neighborhood revitalization bills through Congress.
In Congress
In 1981, while pursuing a doctorate in urban planning and development finance at MIT, she was recruited by the Lucas County Democratic Party to run for Congress against a first-term Republican. Although she was outspent by a 3-to-1 margin, Kaptur parlayed a strong economic message during the 1982 recession to stage a nationally-recognized upset.
In Washington, Kaptur fought vigorously to win a seat on the House Appropriations Committee. Today she serves as the first woman to Chair the influential House Appropriations Subcommittee on Energy and Water Development, which she considers an honor given the Ninth District stretches much of the southern Lake Erie coastline.
Kaptur also serves as a senior member of the powerful House Appropriations Subcommittee on Defense. She uses this assignment to advocate for a number of military assets throughout northern Ohio, such as the Toledo Air National Guard's 180th Fighter Wing unit in Toledo, and Camp Perry, a National Guard training facility located near Port Clinton, which also hosts the Ohio Air National Guard's 200th Red Horse Squadron, and the significant number of defense industrial base manufacturers throughout the district.
Congresswoman also serves on the House Appropriations Subcommittee on Commerce, Justice, and Science, which has jurisdiction over the Department of Commerce, Department of Justice, National Aeronautics and Space Administration (NASA), and the National Science Foundation.
Federal Investments In Northern Ohio
Congresswoman Kaptur is widely credited with bringing back federal dollars to partner with local communities on crucial transportation and infrastructure projects:
The I-280 Veterans' Glass City Skyway, which is the the largest bridge project in Ohio's history
Toledo's Farmers' Market, which has expanded substantially with assistance secured by Congresswoman Kaptur
The Ottawa National Wildlife Refuge visitors center
Cranes and other heavy equipment for the Port of Toledo
State-of-the-art solar power array at the 180th Fighter Wing
The Center for Innovative Food Technology
Solar energy research projects at the University of Toledo
The Lake Erie Center
The National World War II Memorial
Born into a family steeped in patriotism and military service, Congresswoman Kaptur has made support for America's seniors, including veterans, the touchstone of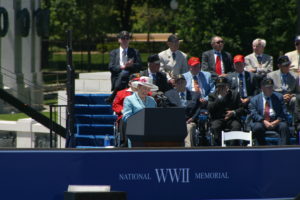 her career in Congress. That dedication was displayed during the long legislative battle she waged to have a World War II memorial built on the National Mall in Washington, D.C. The idea came from Roger Durbin, a constituent who had fought in World War II. Congresswoman Kaptur worked together with Mr. Durbin to make his dream a reality. Despite many setbacks and detours, she never relented.
Seventeen years later, on a sunny May 29, 2004, Congresswoman Kaptur spoke as a crowd estimated at 150,000 people, including three presidents, gathered for the long-awaited dedication of the National World War II Memorial. "What a privilege it has been to carry this dream forward for 17 years," she said.
President George W. Bush accepted the memorial on behalf of the American people, calling it a "fitting tribute, open and expansive, like America: grand and enduring, like the achievements we honor."
Roger Durbin had died four years earlier, but he was remembered and honored prominently during the ceremony. The memorial today is one of the most popular and beloved attractions in Washington, D.C. World War II veterans, now in their mid-eighties and nineties, are treated as heroes there every day.
Defense And National Security
Congresswoman Kaptur's effort on the memorial and her advocacy on behalf of veterans led the Veterans of Foreign Wars to honor her with their prestigious
Americanism Award. She has also received the Prisoner of War "Barbed Wire" Award for her commitment to veterans' affairs.
She championed the cause of workers who got sick after exposure to beryllium by guiding a major piece of legislation to passage on their behalf. She has secured funding for a pathbreaking study into the incidence of post-traumatic stress disorders and other mental health issues among our armed forces. And she helped lead a community effort to save the 180th Fighter Wing in Toledo when it was threatened by the base closure commission.
International Affairs
Congresswoman Kaptur has always shown strong interest in America's standing in the world and its relations with other countries.
She currently serves on the Congressional-Executive Commission on China and co-chairs the Congressional Hungarian Caucus and also the Ukraine Caucus.
A strong supporter of Middle East peace, she directed the first surplus farm commodities in 1999 to support the peace process in Lebanon, Israel and the Palestinian Authority. Congresswoman Kaptur remains dedicated to the development of democratic institutions globally.
She has spearheaded private charitable efforts to alleviate suffering in nations such as Ukraine and Vietnam.
As leader on issues related to international trade and human and labor rights, Kaptur has led the fight for fair trade laws, dating back to her opposition to the North American Free Trade Agreement.
Awards
In 1993, Congresswoman Kaptur was awarded an Honorary Doctor of Laws degree by the University of Toledo in recognition of her "effective representation of the community." St. Ursula Academy named Kaptur Alumna of the Year in 1995.
She is recipient of the Taubman College Distinguished Alumna award from the University of Michigan, making her the first woman so recognized and the first graduate of the Urban and Regional Planning Program to be so honored. Kaptur recently received the Director's Award from the Edmund A. Walsh School of Foreign Service at Georgetown University for her commitment to increased understanding and appreciation of the peoples and cultures of Eurasia, Russia and East Europe.
She was named the National Mental Health Association's "Legislator of the Year" for her championing mental health and received the 2002 Ellis Island Medal of Honor.
Kaptur is also the author of a book, Women in Congress: A Twentieth Century Odyssey, that was published by Congressional Quarterly in 1996.
Dedicated to the principle that fiscal responsibility begins in "one's own backyard," Congresswoman Kaptur has consistently returned money to the federal Treasury. She refuses to accept Congressional pay raises and donates them to offset the federal deficit and charitable causes in her home community.
CONTACT INFORMATION:
E-mail Address: Contact Congresswoman Marcy Kaptur
Congresswoman Marcy Kaptur Offices:
2186 Rayburn House Office Building, Washington D.C. 20515; Phone: (202) 225-4146;Fax: (202) 225-7711
Cleveland: 17021 Lorain Road, Cleveland 44111; Phone: (216) 767-5933; Fax: (419) 255-9623
Lorain: 200 West Erie – #310, Lorain 44052; Phone: (440) 288-1500; Fax: (419) 255-9623
Toledo: One Maritime Plaza – #600, Toledo 43604; Phone: (419) 259-7500; Ohio Toll Free: (800) 964-4699; Fax: (419) 255-9623