Website: LEAD Ohio
Questions? Email info@leadohio.org
2023 LEAD Ohio Candidate Academy
This session is now closed for new applicants.
As soon as next session is announced,
information will be posted.
The Candidate Academy is a comprehensive, 50 hour training that prepares candidates to run for office. Over the course of 6 weekends, the LEADership Academy covers campaign best practices and candidate development and is taught by some of Ohio's most seasoned professionals in respective areas of expertise.
This training program consists of speakers, panels, and workshops on the following topics:
Pros and cons of running for office 
Campaign planning
Developing a finance plan and budget 
How to fundraise 
How to navigate different forms of media
Effective messaging
Voter contact tactics
Creating a healthy volunteer culture
Overview of campaign compliance
There is no cost to attend the training program, but there are a limited number of spots in each Academy cycle. Acceptance into the LEADership Academy is competitive and requires a completed application.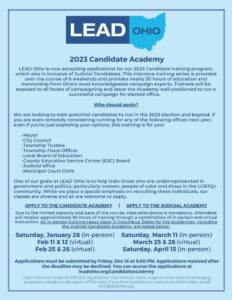 POW"HER" TO RUN FOR OFFICE
Next session: Monday, February 27, 2023.
Are you a woman who is thinking about running for office but isn't sure where to start? Our Women Leading Ohio "Pow-Her to Run for Office" session might be a great fit!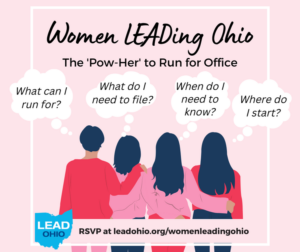 We will cover necessary first steps when considering a run for office and then how to start a campaign after deciding to run.
We invite any women-identifying potential candidates to join us to discuss everything from how to search for open offices, to having conversations about running with family, to filing petitions.
Our next session will be Monday, February 27. RSVP link to come soon!
Campaign Staff Academy
Campaign Staff Academy will begin in May, 2023.
Applications open in late February or early March!
Campaigns require more than strong, well trained candidates to win elections. Campaign managers and staff play an important role to ensure campaigns are
organized and effective, and we need more of them in Ohio. This training program is specifically tailored for current and future campaign managers and campaign staff. Whether you are working on a school board race or have your sights set on managing a candidate for Congress, the skills we teach and the network you'll build in this Academy will be extremely valuable.
The LEAD Ohio Campaign Staff Academy will feature panels, speakers, and workshops led by campaign experts from across the state of Ohio. During this comprehensive training program, we will train attendees in best practices to build a strong campaign and navigate this career field in a sustainable way.
If you are a recent graduate looking for a career in progressive campaign politics, a seasoned campaign operative looking to brush up on your skills, a current campaign staffer who wants to grow in your role, or a super volunteer dedicating your time to electing progressive candidates, this training is for you.
Buckeye Justice Forum
The Buckeye Justice Forum (BJF) was created to foster equity, enhance access to justice, and drive reform in Ohio's judicial system by advancing progressive majorities on Ohio state courts and by building a progressive judicial pipeline to sustain this effort into the future.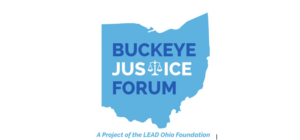 BJF strives to run programs that facilitate the recruitment, vetting, training, and mentorship of progressive judicial candidates and to offer education and networking opportunities for those candidates and other reform-minded members of the bar, the bench, and the politico-legal community throughout Ohio, all with the goal of molding a progressive judiciary appropriate for the 21st century.
BJF also seeks to increase diversity on Ohio's bench to ensure that it more accurately reflects the communities the state court system represents, serves, and touches.
For questions and inquiries pertaining to the Buckeye Justice Forum, please reach out to Project Director Eddie Davenport at Eddie@leadohio.org!