Thursday evening, February 2, 2023, the Erie County Democratic Party Central Committee held a Special Meeting to appoint Ellen "Ellie" M. Olsen to serve as Erie County's Interim Recorder. Olsen has worked in the Erie County Auditor's Office for nearly 26 years and previously for 10 years in the Erie County Engineer's Office.
"I look forward to this new chapter and opportunity to work with the general public and the various departments who rely on consistent and accurate recorded information. My vast experience in reading and understanding the legal description on deeds, experience with splits, combinations, transfers and plats and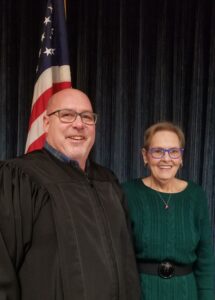 ensuring proper information on ownership of parcels, match with a number of the important responsibilities and duties of the county recorder and staff. I look forward to being in the office full time, being available to community members to ensure that they are receiving the most benefits that the Recorder's Office can provide, and also to review the current practices of the office, to ensure it is open and available to conduct business in a timely manner," Olsen said.
"Ellie Olsen brings a wealth of experience to the Recorder's Office. She has worked for Erie County for 36 years, between the Engineer's and Auditor's Offices, with various elected officeholders from both parties during that time. Without question, she will be able to hit the ground running as she is extremely familiar and knowledgeable with the Recorder's Office and its website, since she uses it almost every day within her current job responsibilities and duties as a Tax Map Draftsman and Real Estate Transfer Officer. Her expertise in properly reading and recording legal descriptions of deeds will serve our community well. Ellie is known to be fair, knowledgeable, people oriented and enjoyable to work with, between the county departments and the general public. We trust that Erie County residents will know that Ellie will bring her strong work ethic, essential attention to details and her genuine personality to continue the positive public service that the Recorder's Office staff have provided," Amy Grubbe, Chair of the ECDP stated.