2023 LEAD Ohio Candidate Academy
The Candidate Academy is a comprehensive, 50 hour training that prepares candidates to run for office. Over the course of 6 weekends, the LEADership Academy covers campaign best practices and candidate development and is taught by some of Ohio's most seasoned professionals in respective areas of expertise.
This training program consists of speakers, panels, and workshops on the following topics:
• Pros and cons of running for office 
• Campaign planning
• Developing a finance plan and budget 
• How to fundraise 
• How to navigate different forms of media
• Effective messaging
• Voter contact tactics
• Creating a healthy volunteer culture
• Overview of campaign compliance
There is no cost to attend the training program, but there are a limited number of spots in each Academy cycle. Acceptance into the LEADership Academy is competitive and requires a completed application.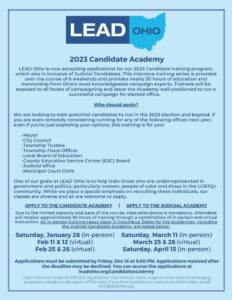 Applications for the 2023 LEAD Ohio Candidate Academy are now open. This training is tailored specifically for progressives interested in running for Local Offices like township trustee, city council, school board, etc. Click here to apply for the Candidate Academy.
Applications are also open for our 2023 Judicial Candidate Academy for anyone considering running in 2023 or 2024 for Judicial office. Click here to apply for the Judicial Academy.
Applications will be accepted through Friday, December 16, 2022, at 5:00 pm.