Elected Officials > State House – Democratic Minority Leadership – 133rd General Assembly
State House - Democratic Minority Leadership - 133rd General Assembly
The Ohio House of Representatives Minority Leadership Team.  The minority caucus is comprised of the party with the fewest members represented. Each session, members of the minority caucus select a slate of leaders, headed by the minority leader. 

Minority Leader - Representative Emilia Strong Sykes - District 34
Born and raised in Akron, State Rep. Emilia Strong Sykes was elected to represent her hometown (OH-34) in November 2014. With a strong sense of responsibility for the well-being of those that she serves, Sykes has tackled the challenges of her district with unmatched passion and dedication. Sykes also serves in House Democratic leadership as the minority whip, a position to which she was elected by her colleagues.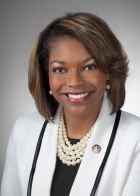 As a representative, Sykes has pushed an aggressive job creation plan, fighting to keep local jobs for local workers and expand opportunities for middle and working class families in Akron. Rep. Sykes understands the importance of a quality education and job training for people to get ahead. She has supported young leadership and mentorship programs to inspire young people to reach their goals.
Rep. Sykes has also worked with healthcare professionals and colleagues to improve public health, increase access to care, and combat Ohio's high infant mortality rate. Her passion for social justice extends to issues such as voter rights, criminal justice reform, a more efficient social safety net for struggling Ohioans, and an end to domestic violence. Sykes' work on domestic violence issues has earned bipartisan praise and resulted in her legislation to protect people in dating relationships, House Bill 1, becoming law.
Sykes previously served as Administrative Staff Advisor at the Summit County Fiscal Office, where she worked to establish a county land bank to repurpose vacant and abandoned properties. At Community Legal Services in Akron, Sykes offered access to quality health and legal services to people in need. She also served as  Law Clerk to the Chief Judge of U.S. Bankruptcy Court in the Northern District of Georgia.
Sykes attended Kent State University, graduating magna cum laude with a B.A. in Psychology. She later attended the University of Florida, where she earned a Juris Doctor with a Certificate in Family Law from the Levin College of Law and a Masters of Public Health from the College of Public Health and Health Professions.
As a student Sykes began her studies on women's access to healthcare and investigated major issues at crisis pregnancy centers here in Ohio. In law school, she volunteered with the Intimate Partner Violence Assistance Clinic to educate women and girls about domestic violence and how to form positive relationships. From these experiences, Rep. Sykes continues to place issues affecting girls and woman at the forefront of her policy agenda.
Contact Representative Emilia Strong Sykes:
77 S. High St 
14th Floor 
Columbus, OH 43215 
Phone (614) 466-3100 
Fax      (614) 719-6944 
Email Representative Sykes
Rep. Boggs is a dedicated public servant and an advocate for a strong public education system, economic opportunity for working people and a fair and compliant election process. She is committed to being a strong voice for Ohio's working class by fighting for fair wages and economic security, and her passionate advocacy work extends to important issues such as voting rights, affordable education and domestic violence.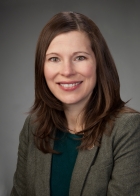 After graduating from the Cleveland-Marshall College of Law, Boggs joined the Office of the Ohio Attorney General, serving as an assistant attorney general for nearly 10 years. In the Attorney General's office, Boggs assisted some of Ohio's most vulnerable populations in recovering from crimes of financial exploitation and physical abuse.   
Along with her extensive background in public service, policy and legal issues, Boggs has served as a board member for the American Constitution Society since 2010, she volunteered as a Court Appointed Special Advocate for Franklin County, and she was a working committee member of the Ohio Women's Bar Association 2013 Leadership Institute.
Boggs represents the 18th House District, which consists of Columbus, Bexley, Grandview Heights and parts of central Franklin County.
Contact Representative Kristin Boggs:
77 S. High St 
10th Floor 
Columbus, OH 43215 
Phone (614) 466-1896 
Fax      (614) 719-6964 
Email Representative Boggs

Minority Whip - Kent Smith - District 8
State Rep. Kent Smith was first elected to serve the people of the 8th Ohio House District in 2014 and was re-elected in 2016.  He joined the Ohio House of Representatives after serving Euclid, Ohio as a Member of the Euclid Board of Education from 2002 – 2013.  In his 12 years on the Euclid School Board, Kent never missed a meeting.  As a Euclid School Board Member, he was a four-time winner of the "Award of Achievement" which is awarded annually by the Ohio School Boards Association to less than three percent of all School Board Members in Ohio.
Smith graduated from Miami University and earned his Master of Science in Urban Studies from Cleveland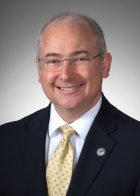 State University in 2001. His Master's Degree thesis - which was written in 2001 - was about the emerging threat of Predatory Lending and the Subprime Market. He also co-authored the first Predatory Lending Report by Policy Matters Ohio in 2002.  Following his Master's Degree studies, he was a PhD student at Cleveland State University in Economic Development.
In his current term (2017 – 2018) in the Ohio House of Representatives, he serves as the Ranking Democrat on the Financial Institutions, Housing and Urban Development Committee.  He also is a committee member on the Education and Career Readiness Committee, the Higher Education and Workforce Development Committee and the Public Utilities Committee. 
In his first term (2015-2016), Smith was the Ranking Democrat on the Economic and Workforce Development Committee.  He also served on the Financial Institutions, Housing and Urban Development Committee, the House Education Committee and the Public Utilities Committee. 
In 2017, he was one of three Ohio State Reps, and one of 37 overall, to receive a fellowship for the 2017 Bowhay Institute for Legislative Leadership Development conducted by the Council of State Governments (CSG) at the Humphrey School of Public Affairs at the University of Minnesota.
Additionally, he serves as the Ohio Lead in the Ohio House for the National Caucus of Environmental Legislators and on three multi-state legislative caucuses; CSG's Great Lakes Legislative Caucus, the National Conference of State Legislatures (NCSL) Labor and Economic Development Standing Committee and the NCSL Task Force on Cyber Security.
Smith serves as the Policy Chair for the Ohio House Democratic Caucus, where he works with members and organizations to research and draft legislation that furthers the caucus' priorities of middle-class job growth, economic stability for Ohio families, strong public education, clean energy and increased opportunities for working people to get ahead in the Buckeye State.
Since 2006, Representative Smith has been the head of the Euclid Democratic Party – a position called the Euclid City Democrat Leader.  In addition, he works as a roller derby announcer for both Burning River Roller Derby in Cleveland and The Chicago Outfit.  He joined Burning River in 2008 and The Chicago Outfit in 2010.  He has announced roller derby for the past 11 years and has called hundreds of bouts across the Midwest.  In 2018, he was one of 15 American roller derby voices selected to help announce the 2018 Roller Derby World Cup in Manchester, England.
Prior to joining the Ohio General Assembly, Representative Smith worked for the Cuyahoga County Prosecutors Office, which included an assignment with the Ohio Internet Crimes Against Children Task Force, and at four Northeast Ohio nonprofit organizations.
He is eager to use his unique perspective and professional experience to improve the quality of life for the people of the 8th Ohio House District and working families across the state.
Contact Representative Smith:
77 S. High St
10th Floor
Columbus, OH 43215
Phone (614) 466-5441
Fax      (614) 719-0008 
Email Representative Smith, K.
As the first black female mayor of Toledo, State Rep. Paula Hicks Hudson has always exhibited a commitment to empowering and helping people improve their quality of life. She currently represents Ohio's 44th House District, which includes central Toledo.
Raised in the city of Hamilton, Ohio, Rep. Hudson often cites education as a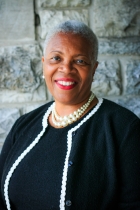 pathway to success. She graduated from Spelman College, a historically black high education institution for women, with her Bachelor's degree in Political Science and Journalism. Rep. Hudson then went on to graduate with her Master's Degree in Communications Development from Colorado State University.
Following graduation, Rep. Hudson and her family returned to Wilberforce, Ohio, where she taught readiness skills to underprepared students in the Upward Bound Program at Central State University. It was through this experience that Paula saw the challenges that young people faced with the legal system. As a result, Rep. Hudson returned to law school with a focus on juvenile justice issues.
After graduating with her Juris Doctorate from the University of Iowa, Rep. Hudson moved with her family to Toledo in 1982. As a Reginald Heber Smith Fellow, she began her career at Toledo Legal Aid Society representing senior citizens and working with several community groups.
Rep. Hudson's purpose has centered on improving the quality of her community through her hard work in the public and private sector. During her 35-year professional career, she has worked as assistant Lucas County prosecutor, assistant public defender and assistant state attorney general. From 1998-2002, she served as the legislative director of the Toledo City Council. Following that, she served as the director and deputy director of the Lucas County Board of Elections and chief legal counsel to the Ohio Office of Budget and Management under Governor Ted Strickland.
From negotiating labor contracts for Ohio Shared Services Center and teaching domestic relations law, to conducting voter education activities for Congresswoman Marcy Kaptur, Rep. Hudson has advocated for a diverse range of issues in a holistic and sensible way.
Of particular note are her numerous programs and efforts geared toward youth well-being and educational issues. As a Court Appointed Child Advocate-Guardian ad Litem, Rep. Hudson is trained in mediation and advocates for neglected and underrepresented youth. As a result of her efforts, she has been honored by the Urban Minority Alcohol and Drug Outreach Program. She also continues her partnership with the Coalition and Quality Education and Covenant Youth Development Corporation to increase opportunities for young people. As a professor of juvenile justice, Rep. Hudson has informed upcoming professionals of the importance of intervention and prevention programs and actions for development of productive citizenship for our future society.
In 2011, while working for her own private law practice and teaching criminal justice at the University of Toledo's College of Law, Paula was selected by the Lucas County Democratic Party to fill the vacancy on the Toledo City Council District 4 seat.
From 2011 to 2015, Rep. Hudson served on Toledo City Council, serving as President of Council from 2013 until she became Mayor of Toledo.
Rep. Hudson's commitment to community empowerment and revitalization has also led her to serve on the following boards and organizations: the NAACP, the YWCA, the Frederick Douglass Community Center, Toledo Youth Hostel, the African American Law Enforcement Agents, Lucas County Land Reutilization Corporation, and the state and national Federations of Business and Professional Women, Inc. She is also the past president of the Thurgood Marshall law Association and the Toledo Women's Bar Association.
Outside of her dedicated, successful professional career she enjoys many rich connections and activities with family and friends. She has been married to Freeman W. Hudson since 1973 and is the proud mother of two adult daughters, Patricia Hope and Leah Free Star, and grandmother of seven grandchildren. An accomplished musician, Hudson serves as the minister of music at Redeemer Lutheran Church. 
Contact Representative Paula Hicks-Hudson:

Ohio Democratic House Caucus – 614.280.1835